World Championships 2023
8-13 August 2023, Oirschot, The Netherlands
In summer 2023, Oirschot (NL) is the place to be for the Icelandic horse community. The World Championships for Icelandic Horses (WC2023) are the opportunity to experience the biggest stars in breeding and sports. Horses and riders travel from all over the world to compete for the medals.
We hope the whole Icelandic community will join us! And there is more: shopping, lectures, food, drinks and great company. For all information, look at our website wc2023.nl.
The WC is organized by Icelandic Horse Projects Foundation and FEIF.
Sport
A national sport team at World Championships for Icelandic Horses can comprise of up to 7 rider/horse combinations and a reserve horse, a reserve rider or a reserve rider/horse combination. In addition, up to five extra eligible rider/horse combinations and a reserve horse, a reserve rider or a reserve rider/horse combination can be added to the team, provided that the extra riders are at least 16 years old and not more than 21 years old in the calendar year. Young riders may choose to compete in a separate age division or with the adults.
Only one horse per rider is allowed in the World Championships sport competitions. The rider/horse combination cannot be changed after the final entry. Excepted from this is when the reserve is entered in accordance with the rules.
The reigning World Champions are allowed to participate as World Champion at the succeeding World Championships with the same or another eligible horse.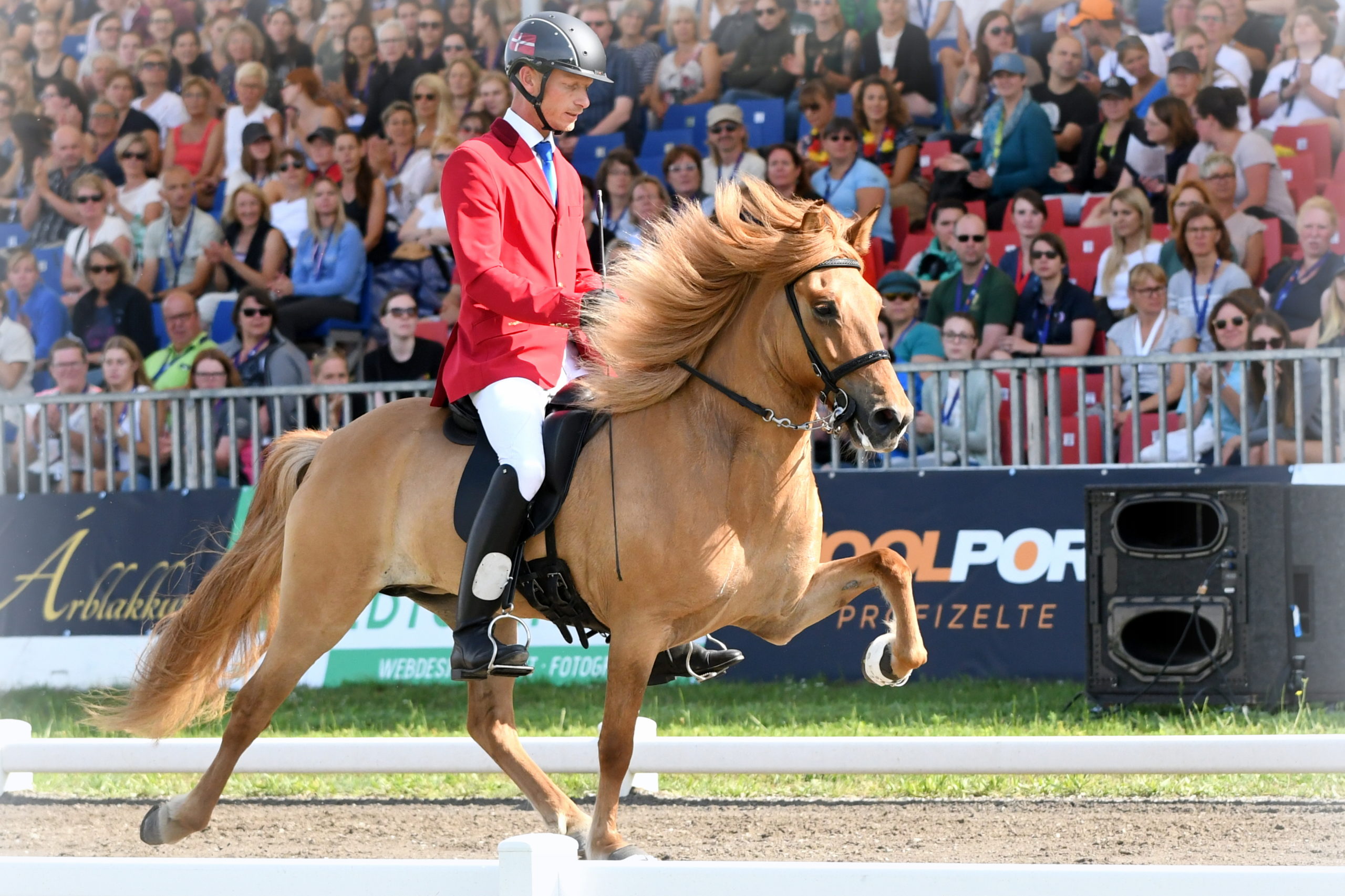 Video: https://lalendi.nl/events.html
Breeding
During the World Championships, a Breeding show is organised where each full FEIF member associations may enter a maximum of 2 horses per age group, whereas no reserve horses are possible. The horses may take part in both the breeding and sports classes, but the shoeing may not be changed at all during the World Championships.
A horse may only represent the member association in which it was born. All stallions presented for judgement must have proof of parentage either by blood type or DNA analysis (born from 2006 on).
Stallions and mares are shown in separate classes in the following age groups:
a) 5 years old
b) 6 years old
c) 7 years old or over
European Championships (1970 – 1989)
1970 – 

First European Championship in Aegidienberg, Germany.

1972 – 

European Championships in St. Moritz, Switzerland

1975 – 

European Championships in Semriach, Austria

1977 – 

European Championships in Skiveren, Denmark

1979 – 

European Championships in Uddel, the Netherlands

1981 – 

European Championships in Larvik, Norway

1983 – 

European Championships in Roderath, Germany

1985 –

 European Championships in Vårgårda,

1987 – 

European Championships in Weistrach, Austria

1989 – 

European Championships in Wilhelmsborg, Denmark
World Championships (since 1991)
1991 – 

First World Championships in Norrkoping, Sweden

1993 – 

World Championships in Spaarnwoude, The Netherlands

1995 – 

World Championships in Fehraltorf, Switzerland

1997 – 

World Championships in Seljord, Norway

1999 – 

World Championships in Rieden, Germany

2001 – 

World Championships in Stadl Paura, Austria

2003 – 

World Championships in Herning, Denmark.

2005 – 

World Championships in Norrkoping, Sweden

2007 – 

World Championships in Oirschot, the Netherlands

2009 – 

World Championships in Neckertal, Switzerland

2011 – 

World Championships in St. Radegund, Austria

2013 – 

World Championships in Berlin, Germany

2015 – 

World Championships in Herning, Denmark

2017 – 

World Championships in Oirschot, Netherlands

2019 – 

World Championships in Berlin, Germany

2021 – cancelled (COVID-19), planned: Herning, Denmark
 
2023 

– 

World Championships in Oirschot, Netherlands
World Champions 2019
| Rider | Horse | Country | Title |
| --- | --- | --- | --- |
| Jóhann R. Skúlason | Finnbogi frá Minni-Reykjum | IS | T1 Tölt |
| Julie Christiansen | Stormur frá Hemlu I | DK | T2 Tölt |
| Jóhann R. Skúlason | Finnbogi frá Minni-Reykjum | IS | V1 Four Gait |
| Jón Stenild | Eilífur fra Teglborg | DK | F1 Five Gait |
| Teitur Árnason | Dynfari frá Steinnesi | IS | PP1 Pace Test |
| Guðmundur Björgvinson | Glúmur frá Þóroddsstöðum | IS | P1 Pace Race 250m |
| Konráð Valur Sveinsson | Losti frá Ekru | IS | P2 SpeedPass 100m |
| Jóhann R. Skúlason | Finnbogi frá Minni-Reykjum | IS | C4 Four Gait Combination |
| Magnús Skúlason | Valsa från Brösarpsgården | SE | C5 Five Gait Combination |
| Franziska Mueser | Spölur frá Njarðvík | DE | T1 Tölt - Young Rider |
| Jack Eriksson | Milla från Ammor | SE | T2 Tölt - Young Rider |
| Franziska Mueser | Spölur frá Njarðvík | DE | V1 Four Gait - Young Rider |
| Leonie Hoppe | Fylkir vom Kranichtal | DE | F1 Five Gait - Young Rider |
| Benjamín Sandur Ingólfsson | Messa frá Káragerði | IS | PP1 Pace Test - Young Rider |
| Lona Sneve | Stóri-Dímon frá Hraukbæ | NO | P1 Pace Race 250m - Young Rider |
| Helen Klaas | Víf van ´t Groote Veld | DE | P2 SpeedPass 100m - Young Rider |
| Franziska Mueser | Spölur frá Njarðvík | DE | C4 Four Gait Combination - Young Rider |
| Elsa Teverud | Kopar frá Sunnuhvoli | SE | C5 Five Gait Combination - Young Rider |