The FEIF Delegates' Assembly 2021 took place as a Microsoft TEAMS meeting on February 13, 2021, 14:00 CET. 
The following candidates and issues were up for voting during the Assembly. The summary only contains short titles and descriptions to keep this page manageable for delegates who choose to use mobile devices for the voting while still participating in the TEAMS session. The full text of each item is in the invitation. 
Here are the results of the voting during the FEIF Delegates Assembly Microsoft TEAMS meeting.
18 unique responders answered this survey.
1–FEIF President
| | | |
| --- | --- | --- |
| Abstain | | |
| Gunnar Sturluson | 51 | |
| No | | |
| *No Response* | 1 | |
2–FEIF Director of Youth Work
| | | |
| --- | --- | --- |
| Abstain | 4 | |
| Gundula Sharman | 48 | |
| No | | |
| *No Response* | | |
3–FEIF Director of Leisure Riding
| | | |
| --- | --- | --- |
| Abstain | | |
| Christian Eckert | 51 | |
| No | | |
| *No Response* | 1 | |
4–Arbitration Council
| | | |
| --- | --- | --- |
| Abstain | | |
| No | | |
| Tone Kolnes | 51 | |
| *No Response* | 1 | |
5–Disciplinary Board
| | | |
| --- | --- | --- |
| Abstain | | |
| No | | |
| Ólafur Arinbjörn Sigurðsson | 52 | |
| *No Response* | | |
6–Statutes, Annex 1, 1, § 18: Member Associations' Obligations
| | | |
| --- | --- | --- |
| Abstain | | |
| No | | |
| Yes | 52 | |
| *No Response* | | |
7–Statutes, 5.2 The Board
| | | |
| --- | --- | --- |
| Abstain | | |
| No | | |
| Yes | 51 | |
| *No Response* | 1 | |
8–G1.2. Ethics statement
| | | |
| --- | --- | --- |
| Abstain | | |
| No | | |
| Yes | 51 | |
| *No Response* | 1 | |
9–G2.1.5 Helmets and G2.1.6
| | | |
| --- | --- | --- |
| Abstain | | |
| No | | |
| Yes | 52 | |
| *No Response* | | |
10–G2.2 Judges
| | | |
| --- | --- | --- |
| Abstain | 6 | |
| No | 4 | |
| Yes | 42 | |
| *No Response* | | |
11–G2.3.1 Ring Master
| | | |
| --- | --- | --- |
| Abstain | 1 | |
| No | | |
| Yes | 51 | |
| *No Response* | | |
12–G4. Anti Doping
| | | |
| --- | --- | --- |
| Abstain | 4 | |
| No | | |
| Yes | 48 | |
| *No Response* | | |
13–G6 World Championships
| | | |
| --- | --- | --- |
| Abstain | 1 | |
| No | 10 | |
| Yes | 40 | |
| *No Response* | 1 | |
14–G6.14 §4 (new)
| | | |
| --- | --- | --- |
| Abstain | | |
| No | 1 | |
| Yes | 50 | |
| *No Response* | 1 | |
15–G8.1 Saddle
| | | |
| --- | --- | --- |
| Abstain | 1 | |
| No | 4 | |
| Yes | 47 | |
| *No Response* | | |
16–G8.2 Bits and Bridles
| | | |
| --- | --- | --- |
| Abstain | | |
| No | 1 | |
| Yes | 51 | |
| *No Response* | | |
17–G8.2.3. Prohibited bits and bridles
| | | |
| --- | --- | --- |
| Abstain | | |
| No | | |
| Yes | 52 | |
| *No Response* | | |
18–B4.2.2 Judging panel
| | | |
| --- | --- | --- |
| Abstain | | |
| No | | |
| Yes | 52 | |
| *No Response* | | |
19–G8.3.1. Shoeing of Breeding Horses
| | | |
| --- | --- | --- |
| Abstain | 1 | |
| No | 1 | |
| Yes | 49 | |
| *No Response* | 1 | |
20–B3.1 Health Control
| | | |
| --- | --- | --- |
| Abstain | | |
| No | | |
| Yes | 52 | |
| *No Response* | | |
21–B3.5.1 Equipment Inspection
| | | |
| --- | --- | --- |
| Abstain | | |
| No | 1 | |
| Yes | 51 | |
| *No Response* | | |
22–G7.3.2 Participating horses in sport events
| | | |
| --- | --- | --- |
| Abstain | | |
| No | 11 | |
| Yes | 41 | |
| *No Response* | | |
23–G8.3.2.4 Loss of a shoe
| | | |
| --- | --- | --- |
| Abstain | 1 | |
| No | | |
| Yes | 51 | |
| *No Response* | | |
24–G8.4 Additional equipment
| | | |
| --- | --- | --- |
| Abstain | 2 | |
| No | 9 | |
| Yes | 38 | |
| *No Response* | 3 | |
25–G8.5.2 Sport Competitions
| | | |
| --- | --- | --- |
| Abstain | | |
| No | 2 | |
| Yes | 50 | |
| *No Response* | | |
26–G9.2.1 Oval track tests and details on tracks
| | | |
| --- | --- | --- |
| Abstain | 1 | |
| No | | |
| Yes | 51 | |
| *No Response* | | |
27–G10.7.4. Disqualifications and Disciplinary measures
| | | |
| --- | --- | --- |
| Abstain | | |
| No | 1 | |
| Yes | 51 | |
| *No Response* | | |
28–S1.6 Disqualification & Elimination
| | | |
| --- | --- | --- |
| Abstain | | |
| No | 6 | |
| Yes | 46 | |
| *No Response* | | |
29–S1.5 Combination
| | | |
| --- | --- | --- |
| Abstain | | |
| No | | |
| Yes | 52 | |
| *No Response* | | |
30–S1.7 Withdrawals
| | | |
| --- | --- | --- |
| Abstain | | |
| No | | |
| Yes | 51 | |
| *No Response* | 1 | |
31–S2.5 Finals
| | | |
| --- | --- | --- |
| Abstain | | |
| No | | |
| Yes | 51 | |
| *No Response* | 1 | |
32–S3.1 Restrictions
| | | |
| --- | --- | --- |
| Abstain | | |
| No | | |
| Yes | 51 | |
| *No Response* | 1 | |
33–S3.6.1.3 Withdrawal from heats
| | | |
| --- | --- | --- |
| Abstain | 2 | |
| No | | |
| Yes | 50 | |
| *No Response* | | |
34–S3.6.1.4 – S3.6.1.6 – P1 - Pace Race 250m
| | | |
| --- | --- | --- |
| Abstain | 1 | |
| No | | |
| Yes | 51 | |
| *No Response* | | |
35–S3.6.1.7 and S3.6.3.2 Judges
| | | |
| --- | --- | --- |
| Abstain | | |
| No | | |
| Yes | 51 | |
| *No Response* | 1 | |
36–S3.6.2.3 Judges
| | | |
| --- | --- | --- |
| Abstain | | |
| No | | |
| Yes | 52 | |
| *No Response* | | |
37–S3.6.6 PP3 – Easy Pace Test
| | | |
| --- | --- | --- |
| Abstain | 1 | |
| No | 3 | |
| Yes | 48 | |
| *No Response* | | |
38–S3.6.4.4 and S3.6.5.4 Start
| | | |
| --- | --- | --- |
| Abstain | | |
| No | | |
| Yes | 52 | |
| *No Response* | | |
39–S5. Figures Tests
| | | |
| --- | --- | --- |
| Abstain | | |
| No | | |
| Yes | 51 | |
| *No Response* | 1 | |
40–S7.1 Teams
| | | |
| --- | --- | --- |
| Abstain | | |
| No | | |
| Yes | 52 | |
| *No Response* | | |
41–S7.4.2 Appointment of judges
| | | |
| --- | --- | --- |
| Abstain | | |
| No | | |
| Yes | 52 | |
| *No Response* | | |
42–S7.4.4 Ring Master
| | | |
| --- | --- | --- |
| Abstain | | |
| No | 13 | |
| Yes | 39 | |
| *No Response* | | |
FEIF Budget
| | | |
| --- | --- | --- |
| Abstain | 4 | |
| No | | |
| Yes | 48 | |
| *No Response* | | |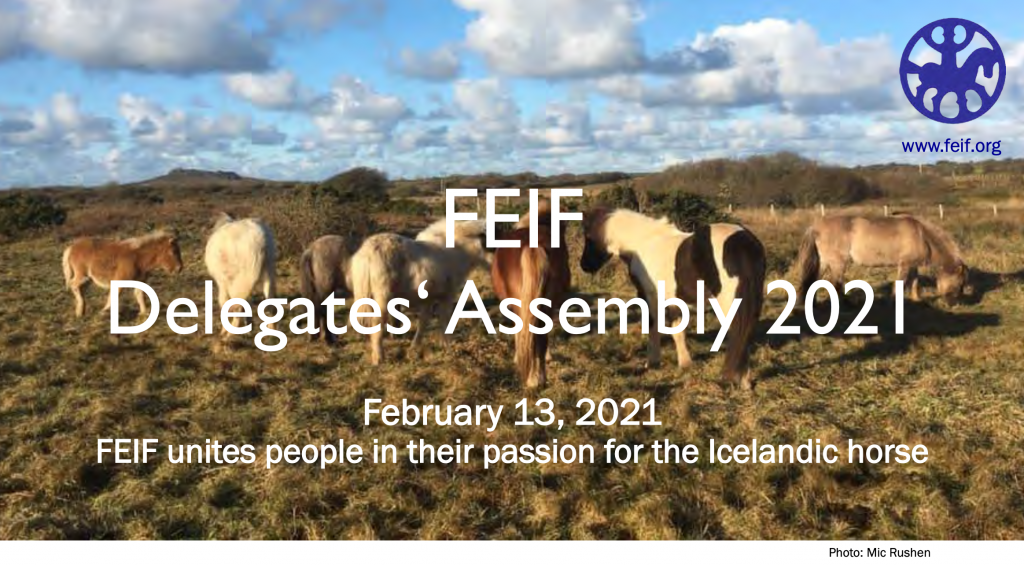 Click here for a PDF of the complete presentation given at the Delegates' Assembly 2021. The presentation includes:
The 2021 outlook for FEIF and each individual department;
A summary of the 2020 audit and auditor's report;
The presentations of the Board candidates;
Overview of the Young Committee Members program;
Winner of the FEIF Youth Country of the Year 2020
Winner of the Trainer/Instructor of the Year 2020
An overview of the 2021 FEIF Budget