Outstanding and globally successful Icelandic breeding horses are awarded every year by the national FEIF member organisation of the country in which the respective horse is located. The award is based on information provided by the Studbook of Origin for the Icelandic horse,
WorldFengur
, operated by RML in Iceland.
All purebred Icelandic horses worldwide are registered in WorldFengur with a unique life number called FEIF ID, which is consisting of the horse's country of birth, age, and sex, among other information. Based on pedigree information and on information from breeding field tests, genetic values (BLUP values) are calculated for all Icelandic horses around the world. For more information about WorldFengur or about the breeding values please click here (FEIF Website) or here (WorldFengur).
Only very few breeding horses meet the minimum requirements for the international offspring awards. The horses qualify for the offspring awards on the basis of the BLUP value for the total score either with pace or without it.
Additionally, the number of assessed offspring of the respective horse plays a major role. For ranking the horses within the awarding groups, the average total score of their offspring is used. Only horses that are alive can be awarded.
The requirements for the various offspring awards are as follows:
Honour Prize for offspring – Stallions
BLUP value of at least 118 for total score either with or without pace and 50 assessed offspring or more.
Honour Prize for offspring – Mares
BLUP value of at least 116 for total score either with or without pace and 5 assessed offspring or more.
1st Prize for offspring – Stallions
BLUP value of at least 118 for total score either with or without pace and 15 – 49 assessed offspring.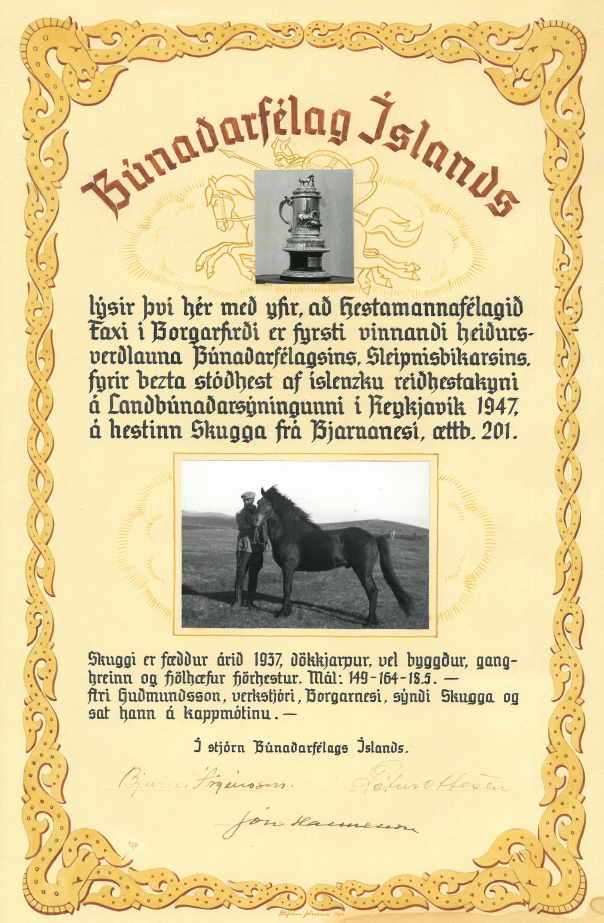 Already in 1947, the first horse to receive the honour prize for offspring was Skuggi frá Bjarnanesi. Since then, many breeding horses have been awarded which has a great influence on the breeding development of the Icelandic horse, as this kind of award promotes the usage of awarded horses. The joint database of WorldFengur and the international BLUP breeding values makes it possible for breeding horses in all FEIF member countries to receive the offspring award, as the same criteria are applied in all countries, no matter where horses are located.
The following lists include horses that have been awarded for offspring award since 2018. More detailed information about the breeding values of the honoured horses and the average total scores of their offspring together with the full description of the horses as breeding horses (judges' comments), can be looked up at www.worldfengur.com or by following the link. The judge's comments are based on linear description of the remarks at breeding shows, the marks and the BLUP values for each trait assessed, a total of 17 underlying traits behind the total score. The BLUP values published with each honoured horse are based on corresponding information from the year the horse received the offspring award.
List of horses which have received honour prizes for offspring since 2018