In 2016, FEIF Youth Work expanded their remit to include the age group 18-26 (eligible are young people who will TURN 18 to 27 years of age in the year of the seminar).
This is a time when great changes take place in the lives of young people. From initial first steps of independence, future leaders are emerging, and we want to encourage and support that development.
To that purpose, FEIF is offering a series of annual seminars where we develop and practice skills on leadership in relation to others, and also in relation to our horses. How do I build a team? What is the difference between teamwork and partnership? How do I practice communication at a higher level? 
The next seminar is planned for 2021 in Vienna, Austria and the invitation with details will be published in due time.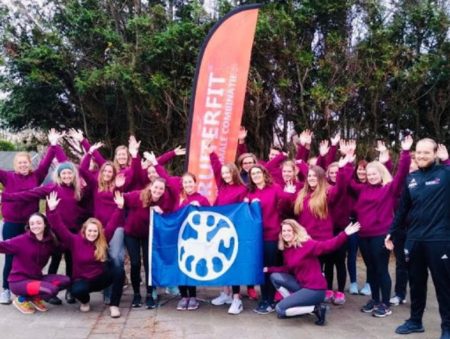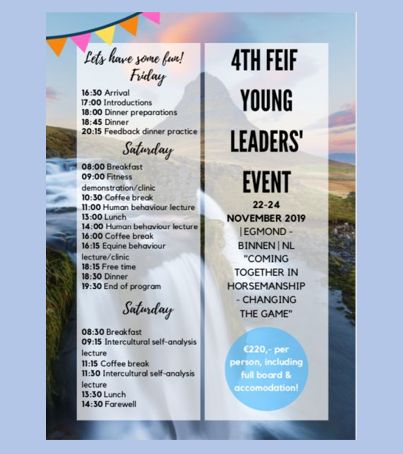 Young Leaders' Seminar 2019
22 young adults, some from as far away as the US and Australia, came together for a full weekend of team building and leadership training. The meeting was hosted by the Dutch Association NIJSP and took place just north of Amsterdam in the beautiful surroundings of Egmond.
The programme included a workshop with Ruiterfit, engaging in mental and physical exercises with a special focus on rider balance and mental preparedness for competition; and interesting journey with MapsTell into different character types, and how that affects leadership style, and a ground-work demonstration with some very green horses from Skóti. Social time is likewise very important, and that was filled with cooking together, playing games and lots of laughter.
The event ticked all the boxes: coming together, learning together, catching fascinating glimpses into the horse culture of the Netherlands. Interested? You might want to look at some of the photos on Instagram @feiforg, or look for #feifyouth.
2016 – Wenngarn, Sweden – Connection and Leadership
2018 – Berlar, Germany – Building connections
2018 – Hveragerði, Iceland – Self-development, leadership and seeing solutions
2019 – Egmond-Binnen, Netherlands – Coming together in horsemanship
2021 – Vienna, Austria