Trainer/Instructor of the Year
Trainer / Instructor of the Year

FEIF recognizes the importance of instructors and trainers in our community.  These talented, dedicated individuals are essential to growing the Icelandic horse breed in terms of both popularity and utility all within the scope of FEIF's mission.  FEIF established an "Instructor/Trainer of the Year" award in 2016 to acknowledge the outstanding teachers and trainers in the community.
Each year, FEIF invites the member countries to nominate one individual as their top instructor/trainer for the year.  The countries are free to choose any criteria to select their candidate.  However, the candidates must all be listed in FEIF Horse Trainers and Riding Instructors list.  Voting is open to the entire Icelandic horse community.
The winner is announced at the annual FEIF Conference or FEIF Delegates' Assembly the following year.  Winners receive a beautiful trophy and a free entrance ticket to either Landsmót or the World Championships depending on the year.
Awarded Trainers / Instructors
2022 - Nina Bergholtz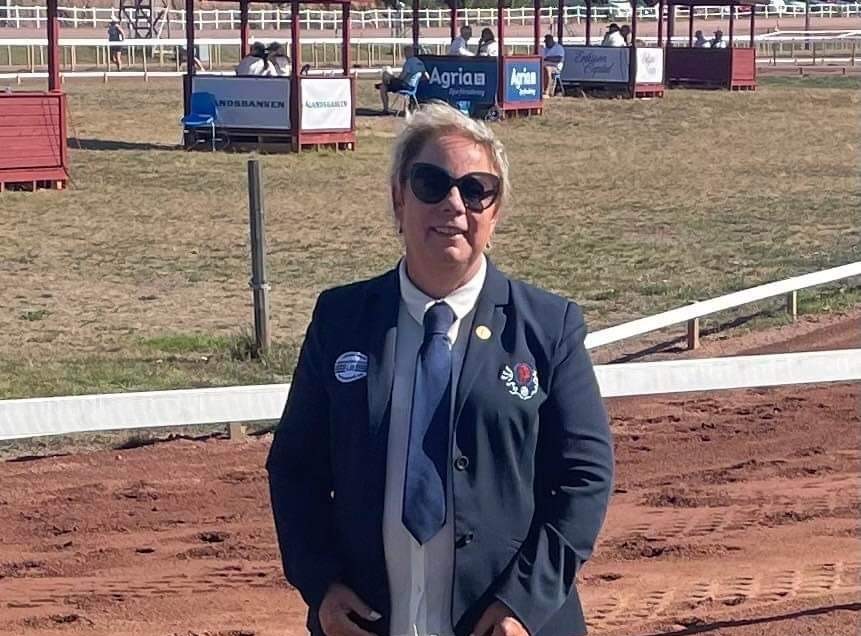 Nina is a riding instructor level 3, a sport judge and a FEIF international breeding judge with 25 years of experience. She has been judging foal and young horses at breeding shows for the last 20 years. Nina has worked as a breeding judge in Sweden, Norway, Denmark, Germany, Austria, Netherlands and USA and she is also a Gæðingakeppni judge and has been judging at many Swedish Championships and also Landsmót.
Nina has competed in the Swedish national team and has participated in 25 Swedish championships and four Nordic championships. Besides a career as an instructor, judge and rider Nina has also bred 150 horses.
Nina is an Icelandic horse enthusiast who puts a lot of effort in everything she does. For many years she had a riding school at her farm Himmelsrum outside of Gamleby, Sweden. For decades she has held riding courses and lectures about Icelandic horse breeding, across the country.
Through her commitment and extensive knowledge of the Icelandic horse, Nina educates her students.
She motivates and inspires her students, always with the horse's best interests in mind. The development of the team and the understanding of the Icelandic horse, its history and exterior, is noticeable in her students. She is a role model for the sport.
2021 - Camilla Hed
Camilla Hed is a Swedish Icelandic Horse Instructor level 3. Since 2014 she has been working at Wången in The Equine Science Program for Icelandic horses, a three year Bachelor's education which gives the students deep knowledge in equine science, sport and management. Camilla also works as a teacher at Wången high school.
She has been a successful national team rider and a national team leader for Finland for some years.
Camilla is involved in training at all rider and horse levels from recreational riders to competition riders and has shown a great interest and a genuine knowledge in horse and rider biomechanics based on the latest research as well as horse welfare and sustainable horse training. In her teaching she combines proven experience and knowledge with new research to educate students and riders. Many riders and students have developed their riding skills and their way of reflecting, analyzing and handling horses under Camilla's guidance and leadership. Finally, she has,  for many years, been involved and committed to the area of education within the Swedish Icelandic Association.
2020 -- Malin Schön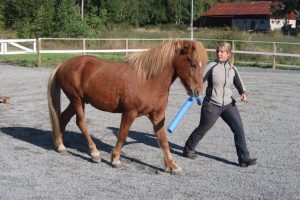 Malin Schön is a Swedish Icelandic horse Instructor level 1 and a national Sport Judge.
She has a great interest and a genuine knowledge, an including attitude, a positive energy and a deep respect for horses and people regardless of ambition level. Her interest in all people and horses regardless of ambition level makes her an exemplary instructor and trainer.
During the year, she has through clinics, lectures and social media spread theoretical knowledge about horses' psychology and learning abilities as well as practical methods for stimulating learning and training based on the horse's conditions.
Malin combines alternative training methods and communication skills in riding and groundwork. She focuses on a psychological but also physically constructive sustainable horse training perspective.
She inspires many horse owners/riders to work and communicate with the horses in a alternating way, both in riding and ground work
2019 -- Suzan Beuk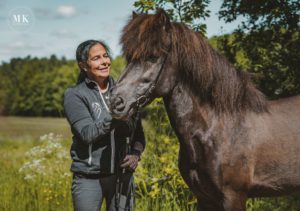 Suzan has been an IPZV trainer (highest training level in the training system of the IPZV) since 1994. As a young adult she has accompanied and supervised the riders of the World Championships, she has always enriched the education department with a lot of dedication and her great competence. With a lot of empathy and social competence she works with her riding students as a private trainer and also as a trainer of the German National Team of Young Riders.
Due to the numerous successes of the Young Riders at many competitions and especially at the World Championships in 2019 as well as Suzan's many years of successful work with the National Team of the Young Riders, she deserves the 2019 title "Trainer of the Year"!
(Photo: Marlen König)
2018 -- Stian Pedersen
Stian, who is a Holar graduate and FEIF level 3 instructor, has spent half his life educating and training others. With more than 50 students each year and more than 20 weekends a year spent traveling to different countries as an instructor, he has put his mark on the Icelandic horse society. Stian, who is a former world champion in both T1 and V1, has helped many riders to reach their goals on the competition track.
Stian is, however, dedicated to riders and horses on all levels, not only to those on the national team. According to Stian, his philosophy is to teach the riders WHY you should do things in a certain way, not only that you should do it. He believes in understanding the horse physiology and anatomy, and sticking to a system that works.
His goal is to help the riders ride their horse in a better way. In addition to this, he is cooperating with a local high school, teaching the students how to break in and train young horses. This project has been going on for 12 years, giving the students a unique opportunity to learn what is maybe the most important part of horse training. In a world where people are always looking for short cuts and the fastest way to the top as a rider.
2017 -- Alexandra Dannenmann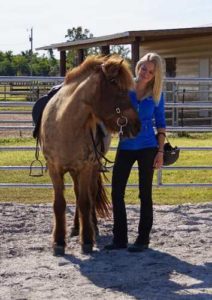 Alexandra Dannenmann is an IPZV Trainer B and FEIF International Sport Judge, living in Florida, USA. Alex has spent her entire life pursuing her passion of riding and training horses.
Her professional career began in her native country Germany, where she successfully managed a farm in a sole charge capacity, offering lessons, training and horse boarding. She was also a successful rider in competitions. Alex continues her career in the United States, where she currently manages the Florida Icehorsefarm.
Alex's passion and understanding for the Icelandic horses helped her attain her certifications quickly and with excellent marks. She's a highly sought-after judge and clinician for competitions and courses around the US and in Europe. She works with horses and riders up to the highest level.
On top of that, Alex works in collaboration with children cancer foundations and a local hospice, donating her time and horses for these children and their families in individual programs and by organizing beneficial events at her farm.
2016 -- Johanna Elgholm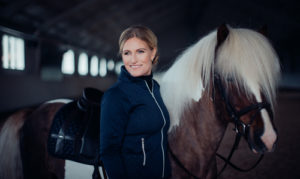 Johanna is a well known and experienced instructor, who also competes at highest level. She is a former FEIF judge and is a licensed horse trainer at the highest present level in Sweden. She teachers within the educational system of SIF for sport judges and riding instructors. Johanna runs a riding school and training station at her farm, Edeby Gård, offering education of riders is on all levels. Many riders comes with their own horses for riding lessons on a regular basis.
Johanna has been a trainer for the Swedish national team since 2014 and a part of the success as best national team at WC 2015 and NC 2016. She has been very appreciated as trainer and coach with her knowledge, enthusiasm and her ability to encourage the riders from beginners in the saddle to World Championship riders. Johanna is remarkable for her accuracy and ability to teach with the horse and riders physical and mental conditions in focus. She works methodically and has a great interest in teaching youngsters. Many of today's successful riders in Sweden started their career training under Johanna.